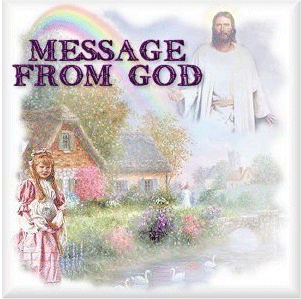 A MESSAGE FROM THE LORD
Child,
don't let your heart be troubled
neither let it be afraid
I'm in charge of ALL your problems
so you need not be dismayed!
Come to me when you are weary,
heavy laden, & burdened down
I will bear the loads you carry
always KNOW you're not alone!
Come and seek my reassurance
when you do not understand
what is going on around you
in this weary, troubled, land
Do not fret or fear the future
you will see it's in MY HANDS
you can rest assured I'm able
to fulfill MY perfect plans!
Come and cast off all your worries
leave them here before my feet
Read my WORD
and claim each promise
I will give you PEACE so sweet
you will know that I am working
and MY Work....I WILL COMPLETE
Do not wait for urgent trials
to come back to ME this way
I AM LONGING SO TO HOLD YOU
please return to ME each day
Read MY WORD and hear ME speaking
I have so much MORE to say!
A MESSAGE FROM THE LORD (to share)
PSALMS 145:13
The LORD is faithful to all his promises
and loving toward all he has made.
PS 145:14 The LORD upholds all those who fall
and lifts up all who are bowed down.
OH HOW OFTEN WE GET BUSY
AND NEGLECT TO HEAR HIS VOICE
COVERED UP BY STRESS & TURMOIL
AND THE WORLD'S BOMBARDING NOISE
BUT IF WE WILL STOP AND LISTEN
BEING STILL--- WE WILL REJOICE
HEARING AS HE'S SPEAKING SOFTLY
I'M SO GLAD YOU CAME...by choice!