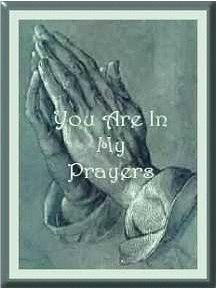 PEACE IN TRIALS
Lord,
let me look to You for Peace
when stress and trials here increase!
Will You draw near to me and please
allow me to feel fears all cease!
Assured I'm safe from earthly harms
My soul is free from life's alarms
when I am resting in Your arms!
When loved ones are in danger here
please, Lord release me from my fear
I know that You are able to
take care of them and help us do
Your will below until life's through
PLEASE HOLD US CLOSE
AND HELP US NOW
WHEN WE CAN NOT ENVISION HOW
YOU'LL EVER WORK OUR TRIALS OUT
RENEW OUR FAITH, ERASE OUR DOUBT
SO WE MAY PRAISE YOUR NAME and SHOUT
ALOUD....."WE TRUST IN YOU ALONE
BECAUSE WE KNOW....WE ARE YOUR OWN!"
Lord, We CAN have your peace in trials
for You ARE near us all the while
to help us trust in Your Great Plans!
Yes, we're ALL safe Lord, in Your Hands!
Thou wilt keep him in perfect peace
whose mind is staid on Thee,
because he trusts in Thee! Isaiah 26:3