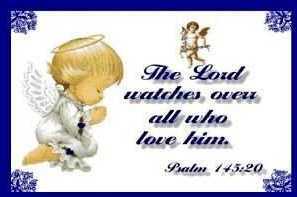 PURPOSE OF PRAYER
Prayer strengthens your relationship
with God. So though He knows
what you need .... He can see
by praying for it - - your Faith grows!
He sees the deep desires you have
but as you pray and seek
His will for you....He'll offer you
His strength where you are weak
He understand your frailties
and your faults and failures too
but when you confess
He'll forgive you and bless
by cleansing your heart too!
God loves to have you praise Him
for that's when He draws near
to give you peace and confidence
erasing doubt and fear.
God understands the bitterness
you've held inside your heart
but He sees you must forgive
and release your desire for
revenge....that's your part
Forgive and He'll forgive you too
He's promised that He would..
then He'll give a burden to
pray for them to turn to the
Lord...as they should!
Prayer comes in many forms you see
Repentance, submission and praise
intercession for others as well
as yourself...practice prayer
to the Lord in these ways!
as you come to the Lord every day!
Praise God with
Repentant hearts of
Adoration and love
Yeilding to Christ
Enthusiastically and
Rejoicing thankfully
MAY GOD STRENGTHEN YOUR FAITH DAILY,
AS YOU SEE HIS VISABLE, WONDERFUL,
ANSWERS TO YOUR HEARTFELT REQUESTS
AND ENJOY HIS FELLOWSHIP IN PRAYER
recalling that:
God inhabits the praises of His people
Jesus instructs us topray without ceasing
and to have confidence
(pray in Faith, believing that God is a
rewarder of those who diligently seek Him)
I John 1:9 confess, be forgiven & cleansed
Forgiving others so that God may forgive you