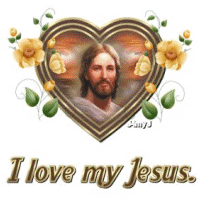 THE SIGHTING
It was just before daybreak - I saw Him
as a porthole broke open in space
It amazed me to view wondrous splendor
of the beauty of Jesus Christ's face
We were riding along in our Chevy
peering out of our window to see
if the clouds looked like shapes
in imagined displays of an artist
with brushstrokes that played.
Disappointed...
that no clouds were present
we turned back to attempt to amuse
ourselves in our boredom of travel
with some games on our laps
we could choose...
then I saw on the floor my
new camera...that I'd purchased
the last time we shopped...
and I popped in the film...
it was loaded....
to capture the views when we stopped.
"Look at THAT"
my good friend said....ASTOUNDED
"WOW!!! it seems
like HE'S LOOKING AT ME!"
I peered out of the window
attempting to view
what my friend seemed
he surely could see!
The bright blue sky
clearly...pealed open....
as HE peered through
a fluffy white cloud....
HIS tender eyes
looked bright and loving
and HIS sweet smile
was seemingly proud!
HIS kind face was tender and gentle
as HE looked down through the skies
and we knew beyond
a shadow of doubt...
that it HAD to be JESUS CHRIST!
It must have been a miracle...
that revealed HIS search that day
for we were aware...
that the Savior was there
and we hoped....
HE WAS ON HIS WAY!
I tried hard to take a picture
to be able to fully record...
the view in the air
until I...became aware
that it wasn't the will of the Lord!
It was printed ...
in my MIND FOREVER....
No endeavor could wipe it away
Now I'll seek HIS return....
as I watch skies and yearn
to view HIS FACE...
as I did...that day!
I'll stay TRUE BLUE
so I won't...stray away!
The face of the LORD
was soooo peaceful
and His eyes...
full of wonderful LOVE
His compassion and mercy
we visibly saw...
as HE looked through
the sky....from above
No one knew...
why HE came to observe us
but in FEAR...
my friend tried..
to hide away
as the eyes of the LORD
scanned the earth to reward
those with FAITH
that HE'S promised...will PAY!
True believers were
reminded that day...
WHY we'll STAY on
HIS STRAIGHT...NARROW WAY!
All the rest of my memories faded
after seeing HIS FACE in the skies
for I'll NEVER FORGET
that HE'S near me...
and HE'S loving, and caring and wise!
My ALMIGHTY LORD GOD...
who supplies...
all we need...and HE SEES
ALL our good deeds HE'LL be
looking daily....
from HIS VIEW...through the sky!
written 2-06-2006 by joybellbarber
with love and prayers that all may
know HIM and seek HIS return
>YES HE IS WATCHING US ALL
Proverbs 15:3
The eyes of the LORD are everywhere,
keeping watch on the wicked and the good.
>SEEK RIGHTEOUSNESS
1 Peter 3:12 For the eyes of the Lord are on
the righteous and his ears are attentive to
their prayer, but the face of the Lord is
against those who do evil."
>PRAY IN FAITH BELIEVING
Luke 18:7 And will not God bring about justice for his chosen ones,
who cry out to him day and night? Will he keep putting them off?
8 I tell you, he will see that they get justice, and quickly.
However, when the Son of Man comes,
will he find faith on the earth?"
>OBEY HIS COMMANDS Deut. 12: 28
Be careful to obey all these regulations I am giving you,
so that it may always go well with you and your children
after you, because you will be doing what is good and
right in the eyes of the LORD your God.
>FEAR HIM AND HOPE IN HIS LOVE
PS 33:18 But the eyes of the LORD
are on those who fear him,
on those whose hope is in his unfailing love,
19 to deliver them from death
and keep them alive in famine.
20 We wait in hope for the LORD;
he is our help and our shield.
>BE FULLY COMMITTED TO HIM
2 Chronicles 16:9
For the eyes of the LORD range
throughout the earth to strengthen
those whose hearts are fully committed to him.

>PRAY FOR GOD TO BLESS AMERICA
DT.11: 12
It is a land the LORD your God cares for;
the eyes of the LORD your God are
continually on it from the beginning
of the year to its end.
>THINGS WILL GET WORSE
LK 21:25 "There will be signs in the sun,
moon and stars. On the earth, nations
will be in anguish and perplexity at the
roaring and tossing of the sea.
26 Men will faint from terror, apprehensive
of what is coming on the world, for the
heavenly bodies will be shaken.
27 At that time they will see the
Son of Man coming in a cloud with
power and great glory.
28 When these things begin to take place,
stand up and lift up your heads,
because your redemption is drawing near."
>WALK WITH GOD
Genesis 6:8 But Noah found favor
in the eyes of the LORD. 9 This is the account of Noah.
Noah was a righteous man, blameless among
the people of his time, and he walked with God.
>LOOK FOR HIM
Hebrews 9:28
Christ Jesus was once offered up
to bear the sins of many,
but unto those who look for HIM
HE shall appear again...
not to bear sin, but unto salvation!
>WE ARE ACCOUNTABLE TO HIM
JOB 35:5 Look up at the heavens and see;
gaze at the clouds so high above you.
6 If you sin, how does that affect him?
If your sins are many, what does that do to him?
7 If you are righteous, what do you give to him,
or what does he receive from your hand?
>CONFESS YOUR SIN & REPENT
I John 1:9 If we confess our sins, HE is
faithful to forgive us our sins, and to cleanse
us from all unrighteousness.
>PRAY FOR HIS HELP
Psalm 19:14 May the words of my mouth
and the meditation of my heart
be pleasing in your sight,
O LORD, my Rock and my Redeemer.
>STAY PURE
Proverbs 15:26
The LORD detests the thoughts of the wicked,
but those of the pure are pleasing to him.
>BONUS....FOR US
Proverbs 16:7 When a man's ways are pleasing to the LORD,
he makes even his enemies live at peace with him.