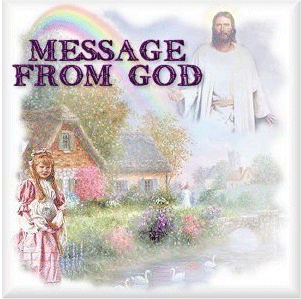 URGENT MESSAGE FROM ABOVE
I MISSED AN URGENT MESSAGE
FROM MY FATHER, GOD TODAY
WHEN I WAS BUSY TAKING TIME
TO TALK, AND WORK, AND PLAY
I NEEDED TO BE STILL AND HEAR
THE THINGS HE HAD TO SAY
INSTEAD OF TALKING INCESSANTLY
I NEEDED TO LISTEN AND PRAY
FOR WISDOM, DIRECTION
AND GUIDANCE FROM HIM
SO I'D STAY ON THE
STRAIGHT, NARROW WAY!
I'M SORRY FOR BEING PREOCCUPIED
BY EARTHLY PRIORITIES LORD,
PLEASE FORGIVE ME
AND SHOW ME
IT PAYS TO BE STILL
I WILL WAIT HERE
UNTIL I'M RESTORED
"PRECIOUS CHILD,
YOU'RE FORGIVEN
I AM SO GLAD YOU CAME
I'VE BEEN LONGING
TO SPEAK TO YOU CLEARLY
BUT WITH ALL OF THE NOISE
THAT SURROUNDS YOU BELOW
YOU WILL FIND THAT
IT'S TRUE....YOU CAN'T HEAR ME!
WE NEED SOMEPLACE PRIVATE
WHERE YOU CAN
DRAW NEAR ME
AND LISTEN
TO MY STILL, SMALL VOICE
YOU NEED TO BE
ABLE TO FOCUS ON ME
AND TAKE TIME-OUT TO LISTEN....
BY CHOICE!
WHEREVER YOU MAKE IT
YOU'LL FIND I WILL WAIT
AND WHENEVER YOU COME
YOU WILL SEE
I AM HAPPY TO MEET YOU
I ANTICIPATE
EACH MEETING
YOU COME TO WITH ME!
I'M LONGING TO SHOW YOU
THE SECRETS I'LL SHARE
TO HELP YOU TO GROW AND MATURE
IN YOUR FAITH
SO YOU'LL FACE
EVERY TRIAL BELOW
REASSURED THAT YOU KNOW
YOU'LL ENDURE
ANYTHING WITH MY PEACE,
LOVE, AND JOY THAT INCREASES
AS I MAKE YOU HOLY AND PURE!
IN MY ARMS,
FREE FROM HARMS
YOU WILL FEEL NO ALARM
FOR YOU'LL KNOW IN YOUR HEART
YOU'RE SECURE!
COME TO ME EVERY DAY
AND I'LL HELP YOU TO STAY
WORRY FREE, HERE WITH ME
AS YOU TRUST AND OBEY
YOU'LL DISCOVER NO OTHER
CAN COMFORT THE WAY
THAT I DO - - I LOVE YOU
AND I'LL HELP YOU TO SEE
YOU'LL ADORE WHAT'S IN STORE
FOR YOU....LIFE ABUNDANTLY!
AND YOU'LL BE TRULY BLESSED
WHEN YOU SPEND TIME WITH ME!"